Hello Friends, Fans and Family, welcome to our rainy April newsletter,

Without further ado !
GIG ALERT #1
Thursday 19th April 2018:
On Thursday 19th April we'll be playing at The Whitty Theatre, Wokinghamraising funds for Headway Thames Valley - The Brain Injury Association.

This Show will ROCK !!! There are three acts giving superb performances, Starting at 7.30pm - 10.30pm - There are still tickets availabe so grab em NOW while you can, we're pulling all the stops out!
YOU CAN HELP THIS WONDERFUL CHARITY - LETS SELL IT OUT! - CLICK HERE


The Story-

Four Years ago Faye Hetherington, daughter of our very good friend and purveyor of great music Stan Hetherington, was out running. She fell, hit her head, badly damaged her brain and was off work for over 2 years, Stan and his wife finally managed to get her back to full time work last September but she still suffers from the occasional relapse.

As you can imagine Faye and her family are very grateful to everyone at Headway for what their care and dedication and Faye decided that as soon as she was able, she would get back into running.

She also wanted to raise desperately needed funds for Headway so she decided that running The London Marathon would be a good idea. So far Faye has raised just over £2,600 on this platform. It would be great to get over £3,000 and with a successful concert, and we will do that! Faye's fundraising page is https://uk.virginmoneygiving.com/fundraiser-display/showROFundraiserPage?userUrl=FayeHetherington&pageUrl=2 - Even if you can't make the concert, you might consider donating to this very worthy fundraising page by clicking the link.

If you can make the gig, we say once again - YOU CAN HELP THIS WONDERFUL CHARITY - LETS SELL IT OUT! - CLICK HERE https://www.ents24.com/wokingham-events/the-whitty-theatre/never-the-bride/5260444
GIG ALERT #2
Saturday 28th April 2018:
On Saturday 28th April NTB return to The Pheasantry after a string of sold out shows! This will be our first Pheasantry show of 2018, we have a very a special evening in store for you.

We are proud to announce, special guest, Ada Morghe. Along with her band of incredible musicians, Ada be performing some songs from her forthcoming Album "Pictures" out soon on Sony Records…. Ada is also known in Germany as actress Alexandra Helmig http://www.imdb.com/name/nm0375713

*NB - We will be starting the show at 8pm this evening in order to fit all of tonight's fabulousness in…expect something very special!
Once again always another sell out show so don't be disappointed, if you want to be with us best to book now...
 
Milli-On-Air
Lovely interview here - Nikki and Steven Smith in the April Edition of On-Line Magazine - MilliOnAir.

Check out our 'Nikki News' page on the NTB website for more!
 
Our new album is finally complete and we need YOUR help to make it shine through the massive world of music on Spotify!
So what do we need from you?
We REALLY need you to follow us on Spotify and SHARE our music!
There will be an exclusive preview of the new album on Spotify before it is available elsewhere. We will let you know the official album launch date and place.
In the meantime, we're starting to create playlists on Spotify of some of our fave music to share with you, calling our list "NTB's Dirty Dozen", every week we'll be adding and including more songs.
Your comments and suggestions are welcome, we love learning about new (and old) music. Remember to FOLLOW us on Spotify!!
Accolade for Long Live LIVE!
Our new album is almost out and our last album just discovered ! If you're in the Netherlands keep an eye out - Looks like we'll be coming your way soon !
Street Team
We need YOU! Like never before….

If you're up for helping NTB in whatever way you can, please just hit reply to this email and we'll be in touch.

Meanwhile, for sure you can help here with Spotify - Repeating - We REALLY need you to follow us on Spotify and SHARE our music!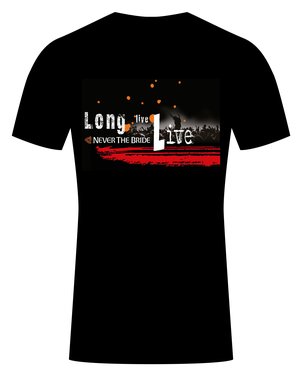 Picture Credit pictures this mail out by Ken Jackson - Taken last gig at The Bull's Head Barnes - See Ken's review, plus photos HERE
Give us a like if you like! Comments appreciated so please leave one, they're always great to read and nice to know what our friends are thinking! Remember to reply to let us know you've received, and tell us your name and where you're from!

Remember if you have some photos and footage from anywhere over the years, send to us at management@neverthebride.com
💜Peace & Love & Rock N Roll from Nikki, Been and The Band️💜